BOTOX® Cosmetic in Sacramento, CA
Precision M.D. Cosmetic Surgery Center. Treatments for Your Specific Skin Concerns
Addressing patients' specific skin concerns at Precision M.D.
Have repeated muscle movements resulted in lines and wrinkles around your eyes, brows, forehead, or mouth?
BOTOX® Cosmetic is the gold standard of anti-aging injectable treatments. Appropriate for minimizing dynamic lines (expression lines), BOTOX® Cosmetic reduces wrinkles and smooths out skin by temporarily blocking neurotransmitters that tell the muscles to contract. With this, facial contours remained relaxed and smooth.
When injected by a healthcare professional, BOTOX® Cosmetic can result in a fresher, less worn appearance for men and women of all ages.
Addressing patients' specific skin concerns at Precision M.D.
Who Is a Good Candidate for BOTOX® Cosmetic?
---
Anyone who wants to restore a more youthful appearance, is physically healthy, has no history of neuromuscular diseases (such as MS), and is not pregnant or nursing is a good candidate for BOTOX® Cosmetic injections. 
It is important to manage expectations of any cosmetic procedure. Be sure to discuss any concerns with your doctor before the procedure. Done right, BOTOX® Cosmetic yields subtle results; it is not equivalent to a facelift or similar surgical procedures.
BOTOX® Cosmetic is appropriate for those looking to improve:
Crow's feet
Forehead lines
Frown lines (between the eyebrows)
Wrinkles at the corners of the mouth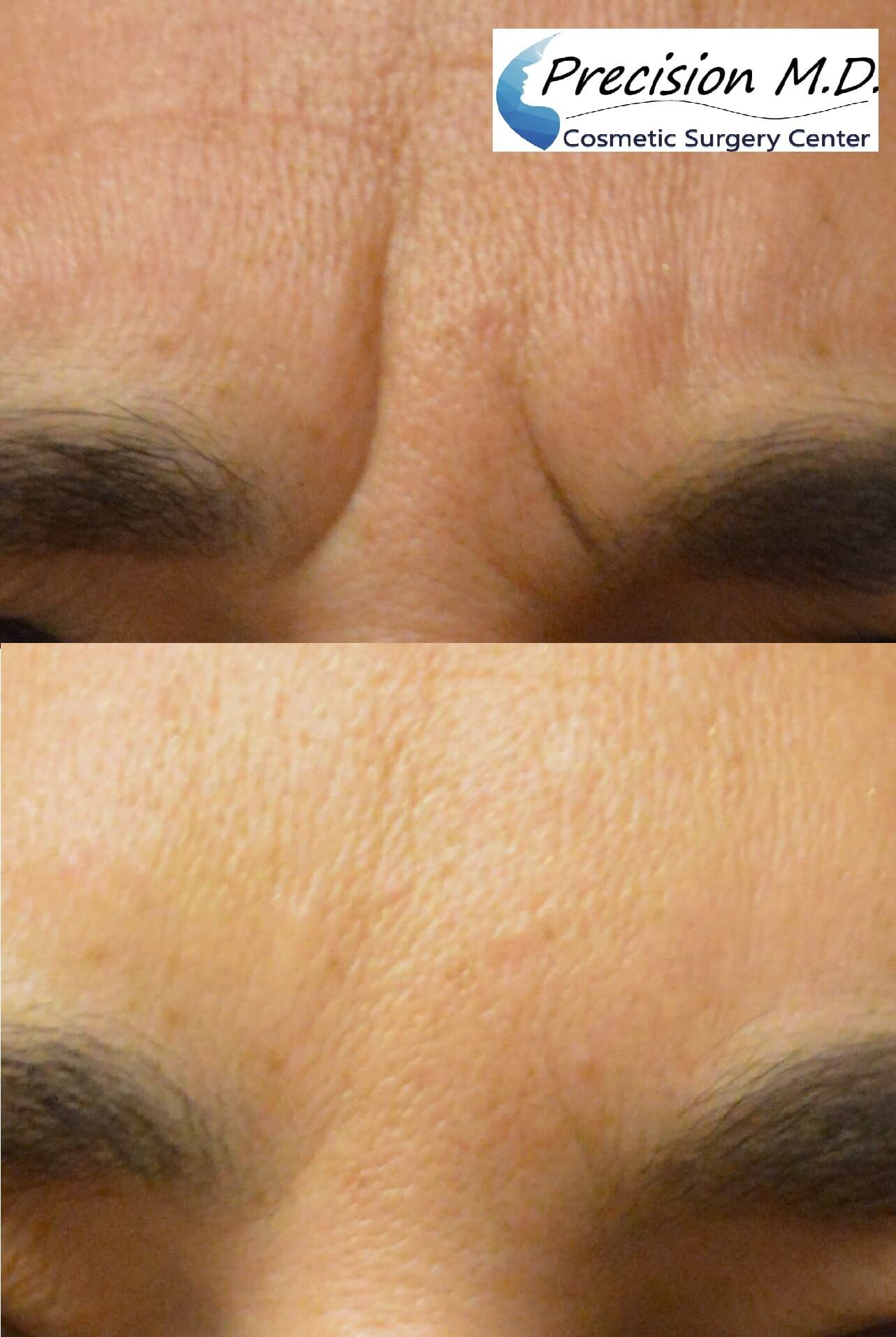 *There is no guarantee of specific results and the results can vary.
How Is BOTOX® Cosmetic Injected?
BOTOX® Cosmetic is administered through a very thin needle.
After a topical numbing agent is applied, injections containing very small amounts of the agent are artfully placed around the eyes or mouth.
These injections relax the targeted facial muscles to smooth the skin. The procedure should only take a few minutes, even though multiple injections are required.
---
What Is My BOTOX® Cosmetic Recovery Like?
There is no downtime or recovery period associated with BOTOX® Cosmetic. Some patients will experience temporary redness at the injection site, but most go about their business as usual. Patients are encouraged to avoid exercise or any strenuous activity for 24 hours.
That said, there are some risks associated with BOTOX® Cosmetic, and you should consult your doctor if you experience numbness or anything usual. Try not to rub the areas around the injection site as that can cause the toxin to migrate.
What Results Can I Expect From BOTOX® Cosmetic Injections?
Some results will be apparent immediately following the procedure, but the full benefits of BOTOX® Cosmetic will take up to a week to reveal themselves.
Some patients worry about having a "frozen face" with limited facial expressions post-procedure; however, if BOTOX® Cosmetic is delivered by an expert, this should not be a concern.
Results can last up to four months. Repeated treatments are required to maintain your fresh and rested appearance.
---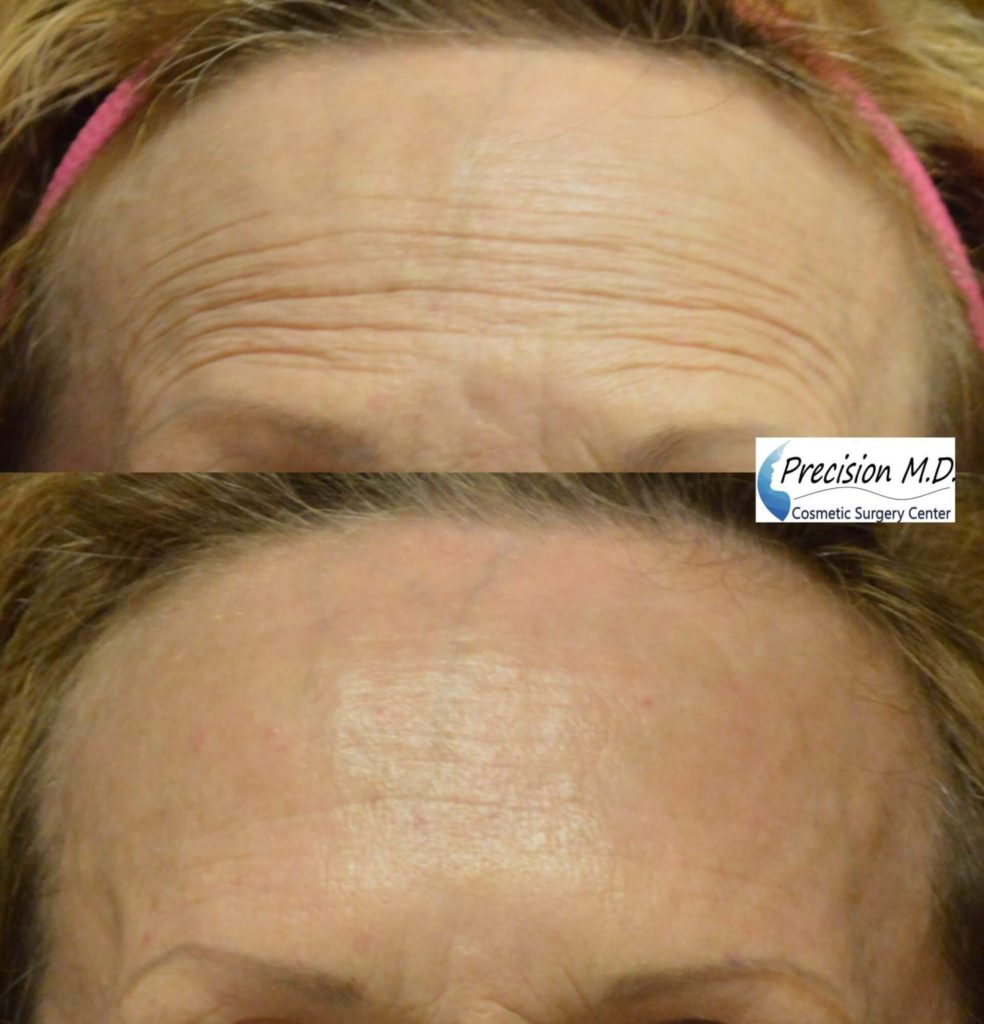 *There is no guarantee of specific results and the results can vary.
Contact Us
Interested in Learning More?
If you are in the Sacramento area and would like to learn more about the benefits of BOTOX® Cosmetic to reduce fine lines and wrinkles, give the friendly team at Precision M.D. Cosmetic Surgery Center a call. They can answer all your questions and set you up for a free consultation. 
Call today at 916-691-6666 or use the attached contact form.