PRP Eye Bag Treatments in Sacramento
Precision M.D. Cosmetic Surgery Center. Treatments for Your Specific Skin Concerns
PRP treatment for reduction in eye bags
Puffy, heavy bags beneath the eyes can occur for numerous reasons. While some of these reasons are as simple as not getting enough sleep, other reasons are not easily remedied.
The PRP (platelet-rich plasma) under-eye treatment is a non-surgical approach that minimizes dark circles and puffiness from under the eyes. This injectable treatment encourages the patient's body to increase collagen production, which helps to renew cellular growth — allowing for smoother, tighter, and even-toned skin beneath the eyes.
PRP treatment for reduction in eye bags
What Is a PRP Under-Eye Treatment?
PRP is a derivative of the blood that contains high levels of growth factors. These factors are essential to collagen production and cellular renewal and, when applied to the area beneath the eyes, creates impressive results.

*There is no guarantee of specific results and the results can vary.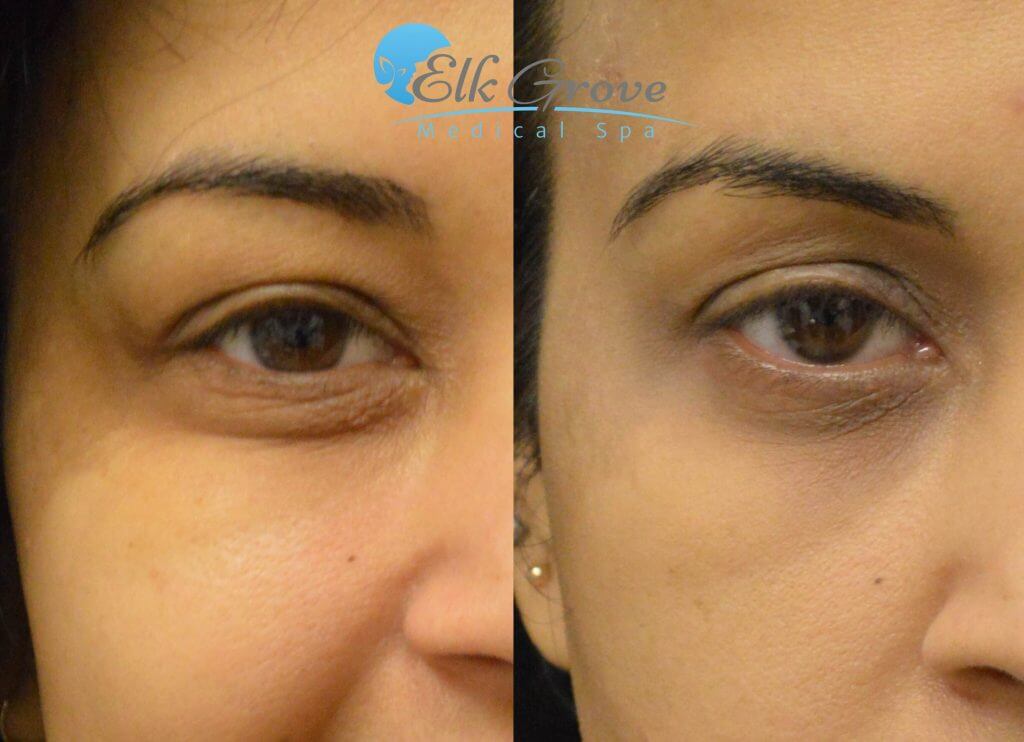 *There is no guarantee of specific results and the results can vary.
Who Is Right for PRP Under-Eye Treatments?
The aging process affects the tissue and muscles beneath your eyelids, causing the skin to sag. Additionally, the fat that once was around your eyes may gradually shift to the area beneath it, making skin appear swollen and puffy.
Many factors affect the area underneath the eyes, including:
Lack of sleep
Changes in the weather
Allergies
Eating salty foods
Nicotine use
Alcohol consumption
Genetics
If you are displeased by the bags beneath your eyes but are in otherwise good health, PRP under-eye treatments may be appropriate for you.
How Is the PRP Under-Eye Treatment Performed?
To collect the PRP used for the treatment, a small sample of blood is taken and placed in a centrifuge that will separate the platelet-rich plasma from the other cells, which are discarded.
The separated PRP is then injected into the area surrounding the eye to reinvigorate your appearance.
The PRP promotes new collagen growth, improves skin elasticity, and helps smooth under-eye fat.
What Is PRP Under-Eye Treatment Recovery Like?
As PRP injections are non-invasive, downtime is minimal to non-existent. Most people can carry on with their day immediately after the procedure.
What Results Can I Expect From PRP Under-Eye Treatment?
PRP is not only helpful in treating under-eye bags, but it is also beneficial in preventing discoloration from occurring.
Patients typically require a series of PRP under-eye treatments before noticeable improvements are seen.
Contact Us
Interested in PRP Under-Eye Treatment in Sacramento, CA?
Most women try to cover up the skin under their eyes with cream or makeup. If you are looking for a more permanent solution, Precision M.D. Cosmetic Surgery Center can help.
If you would like to learn more about PRP under-eye treatment in Sacramento, California, call us at (916) 691-6666 or fill out our online contact form today!